Export of animal feed
While Vietnam spent billions of dollars in imported animal feed per year, the company still has exported the industrial feed to the world.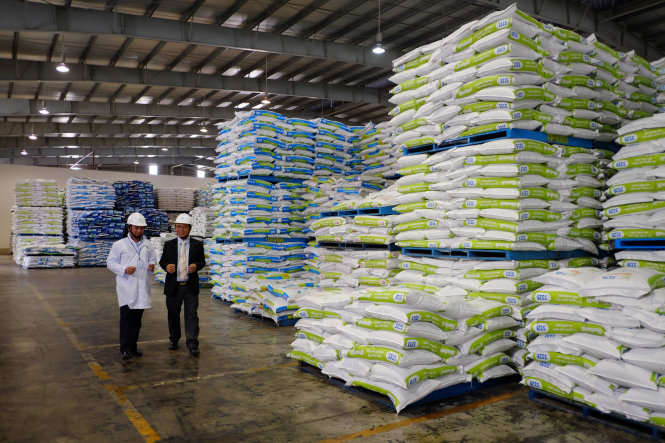 The manufacturing industry experts said feed production level of VN commodities peaked in the area, completely can become processing centers for exporting products to countries in the region.
Imports of corn, selling feed
In the first 10 months of this year, according to MARD, VN has spent nearly $ 3 billion to import feed and raw materials, including more than 7 million tons corn and 1.3 million tons soybeans to serve the needs of industry industrial livestock strong growth capital today.
According to this source, there are over 200 domestic enterprises engaged in manufacturing all kinds of feed for cattle, poultry and seafood ...
Not only the production and supply of products for the domestic market, some enterprises in this field also products "made in Vietnam" to other countries.
Just returned from a business trip in northern India, said Le Thanh Anh - Business executives in India's De Heus VN Ltd (unit currently export products to regional markets such as Cambodia , Myanmar, the Philippines, Bangladesh and Indonesia) - said that despite growth potential assessed in the Indian animal feed industry, but this business is still the priority markets in Southeast Asia.
According to Mr Anh, expected in 2017 De Heus VN exported about 85,000 tons of finished feed and will rise in the coming period.
According to VN Feed Association, the customs data recorded from VN to export feed for 4-5 years. For the year to mid-November this year, the VN has exported more than 500 million products, and animal feed ingredients.
The director of a production unit in Dong Nai said feed units feed exported to Cambodia two years ago.
Due to the advantage of distance and industrial livestock sector also began to develop in the limited processing capacity, the Cambodian market is becoming an important animal feed imported from Vietnam.
In the first 10 months of this year, China continues to import the commodities market's largest feed from VN worth 168.7 million dollars.
Followed by Cambodia $ 80 million, $ 46 million in Thailand, India 35.8 million, Malaysia 33.5 million, Japan $ 23 million, Taiwan 19.7 million, 16.6 million Americans, Indonesia 16.5 million, the Philippines US $ 16.2 million, 13.1 million South Korea, Bangladesh 6.1 million ...
Công ty TNHH Khoáng Sản Xanh / 2 Bình luận / 24/ 01/ 2017
Support online
Ms Trang
(+84) 989 680 536
export1.minerals@gmail.com