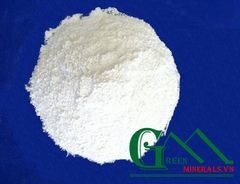 Calcium Carbonate Powder (CaCO3) is an import composition in the modern industry nowadays with many features and utility. Calcium Carbonate is a chemical composition with the formula is CaCO3. Estimated that 5% the earth's crust is one form of Calcium Carbonate, this composition is found as stone (limestone, chalky, marble, …) in everywhere in the world. It is the main composition in the shell of an oyster, snail,… and the main...
Công ty TNHH Khoáng Sản Xanh / 0 Comment / 18/04/2017
Our lives are touched daily by countless products made with some kind of paint or coating. These products are on the walls of our houses, on the surfaces of appliances and furniture, on our children's bikes and wagons, on the cars we drive to work, the bridges we drive over, the ships that may have brought us those cars in the first place, on the file cabinets in our offices,...
Công ty TNHH Khoáng Sản Xanh / 0 Comment / 05/04/2017
Support online
Ms Trang
(+84) 989 680 536
export1.minerals@gmail.com